A pizza peel is an essential piece of equipment. Whether you're using a pizza oven or normal oven, you NEED one.
I have been making homemade pizza for a few years now (Friday night is pizza night!).
My pizza making game completely changed and went up a level once I started using a pizza peel.
When I started I would transfer the pizza into the oven using parchment paper (Oh there were so many accidents!)
There are so many peels available, it's hard to know which one to get. Do you get a wood one, metal one or one with holes in?
I have tried and tested loads over the years. (my wife thinks i'm crazy having a cupboard full of peels)
Perforated Pizza Peel
Lightweight
Comfortable To Hold
Improved Air Flow
Requires Less Flour
Metal Pizza Peel
Lightweight
Durable and Strong
Comfortable Handle
Thin blade to get under pizza base
Wood Pizza Peel
Made from high quality bamboo
Slanted to get under pizza
Easy to clean
Stylish design
---
Best Pizza Peels
Pizza Peel Comparisons
As I said I have tried a lot of different pizza paddles. Check out this video I did recently, showing 4 different peels and how good they were.
Pizza Peel Reviews
1. Ooni Perforated Metal Pizza Peel
This is my go to pizza paddle. It's made from anodised aluminum, this protects it for great durability. It will last you many years of use!
One of the unique things about this peel is the rows of narrow slits or perforations. These are here to help with airflow so you get a really nice crispy base.
As you need to flour the peel to make sure the pizza doesn't stick. The slits make sure you do not use too much and end up with burnt flour. It also helps prevent sticking as there is less surface area on the paddle.
I love just how light this peel is. No matter how many pizzas you are making, it wont start feeling heavy like some of the cheaper options.
It's also incredibly comfortable to hold thanks to its glass-reinforced nylon handle. Which is also designed to stay cool.
The great thing is that it comes in 12 or 14inch, so plenty of room no matter the size of your pizza.
It's made by Ooni, who are known for making some of the best pizza ovens and accessories. Even though these were designed to be used with the ooni ovens, you can still use them with your BBQ or home oven.
Lightweight
Comfortable To Hold
Increased Air Flow
Requires Less Flour
Reasonable Price
High Quality Materials
Durable
---
2. Ooni Metal Pizza Peel
Another one of Ooni is their standard metal pizza peel. This is without the perforations. Obviously since Ooni are experts in all things pizza, they know how to make good accessories.
Like the other paddle, this one is also very light weight. This makes it so easy getting a pizza into the other, turning it and then removing when needed.
I have had some in the past that were just so heavy. After 3 pizzas my shoulder would hurt.
You will NOT suffer from that with this one.
You could literally launch pizza all day long.
Again this one also uses the same handle, which is comfortable to hold but also protects your hand from the heat of the oven. I also like the length of the handle. You are not too close to the oven so you feel the heat on your face.
Although you are not so far away that it makes things awkward. They got the design of this pizza peel perfect.
Lightweight
Durable and Strong
Comfortable Handle
Thin blade to get under pizza base
Good Value For Money
---
3. Ooni Bamboo Serving Board & Launching Peel
The third pizza paddle is also from Ooni and it actually has multiple functions.
It's made from high quality bamboo, so you can build your pizza easily on this wooden pizza peel and you shouldnt experience the dough sticking. Make sure you still add a little bit of flour.
It's a little bit heavier than the metal ones but it's not too heavy that it becomes uncomfortable.
It has a nice thin lip at the front of the blade. Making it really easy to slide under the pizza dough. If you have built your pizza on your worktop.
Like all paddles you would only use this one to launch the pizza, you would still need to use a metal one to turn the pizza.
As well as being used as a peel, it also makes an incredible serving board. So once the pizza is cooked, slide it on here ready for cutting and it will look amazing in the center of your table.
Made from high quality bamboo
Slanted to get under pizza
Easy to clean
Stylish design
Good Value For Money
---
4. Chef Pomodoro Aluminum Pizza Peel
The design of this pizza paddle from Chef Pomodoro is great. Combining wood and metal can give it a stylish look.
One of the things I like about this peel is the safety backstep. I remember when I first started making pizza and was using a peel.
There were a few times I lifted the peel up and the pizza would slide back onto my hand….not good when it just came out of a hot oven!
This backstep does stop this from happening. Can you imagine spending the time cooking an amazing pizza that smells perfect and then it falls onto the floor or your hand…disaster!
The blade is made from aluminum.
I found this peel very easy to use and didn't experience any sticking of the dough.
In terms of size, it is roughly 12 inches long and 14 inches wide. Plenty of space for a good 12 inch pizza.
As mentioned before, the wooden handle on the metal looks good. There's a very good reason why it's made out of wood.
Wood doesn't get as hot as metal. So you can hold the peel, without the risk of it getting hot and burning you. The handle also turns 180 degrees so you can store it easily. (genius!)
One thing I would say about the handle on this paddle is that it's a little small. If you are just using your home oven then it's fine.
It might be more of an issue if you are using a large, wood fired oven.
It's not the cheapest but it is actually good value for what you get.
Back step to prevent slippage
Foldable Handle
Decent sized peel
Stylish design
Good Value For Money
---
4. Chef Pomodoro Aluminum Pizza Peel
Finally we have the paddle from New Star Foodservice. Even though it's in last place, it's still a great pizza peel.
With this paddle you get restaurant quality but at a reasonable price.
No matter what sized pizza you make, there are different sized peels to choose from.
Even though it's low cost in comparison to some. It's made from high quality basswood. The peel is lightweight, durable and strong.
I like the fact that the edges are slanted. This is useful as it helps you to be able to slide the peel under the pizza on the worktop.
One thing to note is that with it being wood, you should always hand-wash it only.
Reasonable Price
Lightweight
Durable
Made from high quality basswood
Restaurant quality
What Is A Pizza Peel?
A pizza peel can also be known as a pizza paddle.
We use these to put the pizza into the oven, turn it and also take it out. Usually pizzas are made in wood fired pizza ovens, so they are going to be hot. (Far too hot to easily remove the pizza without a peel)
You would usually assemble your pizza on your worktop. Next the pizza peel would go under the pizza and "peel" it away and allow you to pop it in the oven. (This is where it gets its name from)
There are different types of peels. I'll go into detail on them a little further down this guide.
A pizza peel is pretty simple in design.
It has the blade, which is the area that the pizza sits on. Depending on the size of the pizza would determine the size of this. The pizza should be completely on the peel.
The material of this is often metal or wood. I'll go into the pros and cons of each shortly.
Next you have the handle. You need this to be a comfortable grip.
It's also important that the handle is long enough to protect you from the heat of the oven.
Do You Need A Pizza Peel?
There are lots of different accessories you can get when making pizza at home. Not all of them are essential.
When it comes to a pizza peel..This is a MUST piece of equipment.
Although if you are using a baking tray then it's not really needed.
So if you are using a pizza oven or even just a pizza stone, you NEED a peel.
DO NOT try and launch the pizza into the oven without one.
When I started making my own pizza I didn't have a peel. First time I put the pizza on the stone and then put the stone in the oven. This caused thermal shock and the stone broke!
The next time I decided to build it onto parchment paper and then hold it either side and put it in the oven.
It was kind of hit and miss on if it would fully make it to the oven.
I was getting pretty frustrated to be honest with you….
It was not until I was watching an episode of Hell's Kitchen. (I am a Gordon fanboy!) I noticed when they were doing pizza, they were using something to put the pizza into the oven.
So I spent some time and Google what it was and 24 hours later, I finally had my first pizza peel.
It took a couple of go's to get the technique but I gained a level in my pizza making skills.
Now no matter when or where I make pizza, my peel always goes with me!
Wood Pizza Peel vs Metal Pizza Peel
Now this is such a debated subject. You will never get a right or wrong answer.
It's all down to personal preference.
Now traditionally you would use a wooden one to launch the pizza into the oven. Then you would use a metal one to turn it and take it out.
This is because when the dough is raw it can stick to metal, making launching it harder.
Personally I prefer to just use a metal one. Although the wood ones are great to serve the pizza on.
UPDATE: Since writing this article I have started testing launching with a wooden pizza paddle again. I have found it much easier using the wooden one, as there has been less sticking.
The best option would be a combination of wood to launch and metal to turn
The Types Of Pizza Peels
There are several different types of pizza peels. I'll go through each of them. This will help you to decide which is right for you.
Wooden Pizza Peel
Many people like to go for wooden pizza peels. This is because you can assemble the pizza directly on it. Helping you to save time and helping it to keep its shape, as you don't need to transfer it.
Wood is naturally warmer, so the dough doesn't tend to stick to it. Although I would still add a little flour to the peel before putting the dough on it.
Wood pizza paddles do look good though. I like how they have that rustic look about them. More often than not I'll serve my pizzas on one of these.
They look great in the center of the table…
The two main issues with wood is that the lip to the peel is thicker than metal. This means you cannot use it to turn the pizza.
Probably the biggest downside is the fact that wood absorbs flavour from the food. It also takes the flavour in from cleaning it, so you need to make sure it's fully cleaned.
Since wood absorbs water, you need to also wait till it's fully dry before using it. This could take some time.
Metal Pizza Peel
Next up we have metal. More often than not made from stainless steel.
Many people don't like to make the pizza on metal peels. This is because the dough tends to stick to it. Usually because the peel is much colder.
What I tend to do is stretch the dough and add the sauce and toppings. I'll then add a bit of flour to the metal pizza peel and either slide it under the pizza or quickly transfer the pizza to the peel.
If it's made right, the dough should be stretchy.
I'll then give the peel a little shake with the pizza on to help stop it from sticking.
You can then use the same peel to turn the pizza around and even take it out the oven. Making them a real time saver.
They are also incredibly easy to clean.
Perforated Pizza Peel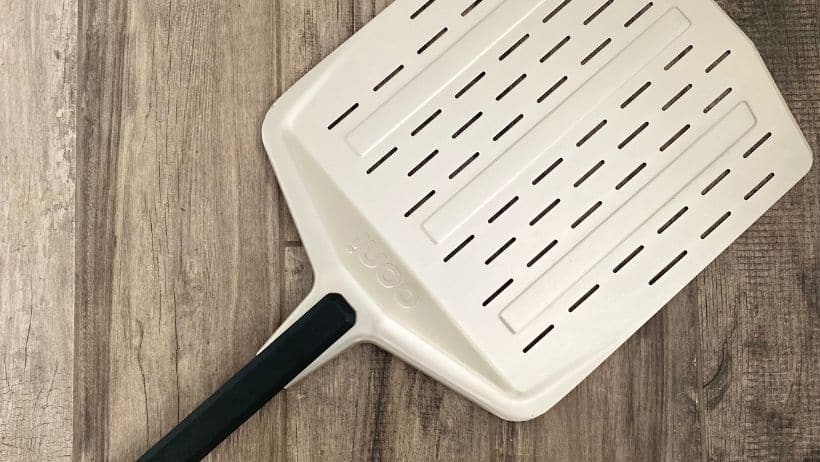 These peels are still made of metal, however they are designed a little bit differently.
You might have seen them but basically they have holes or perfections on the actual blade.
This has two key functions. The first is to help reduce the amount of flour you need on the peel to stop the dough from sticking.
These holes also help air flow under the pizza base whilst turning in the oven. With better air flow you get a much crispier base.
I personally used a perforated pizza peel and one that I would recommend over all the rest.
Turning Pizza Peel
The last type of pizza peel is a turning peel. This is more of an optional item as you can turn a pizza just fine with a standard one.
However the idea of them is that they have a small round blade. You simply place it under the pizza whilst it's in the oven and rotate the pizza around.
The idea is that the pizza stays in the oven whilst you are turning it. Helping it to keep its temperature and cook better. Resulting in a crispier pizza too…
Pizza Peel Buyers Guide
So now you know you want to buy a pizza peel. It's important that you do think about a few things to make sure you get the right one for you and your needs.
Price
Generally you wont need to spend a lot on a pizza peel. There are a lot of different options available. This keeps the price of them down…
I would still recommend considering how much you want to spend. You can get a great quality peel, without it costing a fortune.
It's important that you don't go for one that is too cheap. It may not be built to last. (I had one where the blade just fell off the handle!)
The ones recommended in this guide are middle of the range when it comes to pricing. The Ooni Perforated Pizza Peel is a little more expensive. It is 100% worth it.
Handle
I'll be honest when I was looking at peels, the handle was the last thing I cared about.
It's really important though – After all, it's what will stop you from getting your hand burnt!
When considering handles, try thinking about the following;
Material
More often than not the handle will be made from wood. This will stop the handle getting hot when the peel is going in and out of the oven.
Some are metal and will have some form of silicon handle to keep it cool but also to give you a comfortable grip.
Length
For your home oven the pizza peel doesn't need to be too long. Afterall the oven wont get too hot.
When using a pizza oven you do want a pizza paddle that has a decent length. You want to be a safe distance from the oven.
A longer handle will allow you to easily launch, turn and remove the pizza without feeling too much of the heat.
Handle Quality
I have seen some poor quality peels. Like the one I mentioned before that fell off whilst using it.
You want the handle to be nice and sturdy. Imagine spending the time making a nice dough, stretching and building your pizza and then having it fall off your peel…(nightmare!)
Grip
Finally, you want the grip to be comfortable. You are going to be able to use the peel a lot easier if it's comfortable to hold.
This is why I like the Ooni pizza peel. There are no silly grip marks that make it hard to hold BUT it's made from silicone so anyone can hold it comfortably.
Size
Finally you need to think about the size of the pizza paddle. There is no point in getting a 12 inch peel if you are going to be making 16 inch pizzas. The uncooked dough will just start running off the sides.
At the same time if you have a pizza oven that is 12 inches, a bigger peel is not going to fit into the opening.
I would therefore get a peel that matches the size of the oven and/or the size of the pizzas you plan to make.
How To Use A Pizza Peel?
A pizza paddle is not as hard to use as you might think. (If I can use one then anyone can!)
If you are using a metal pizza peel then you will usually assemble the dough and build your pizza on your workout.
You would then add some flour to your peel and slide the paddle under the pizza to get it onto the peel.
Or you might build it and drag the pizza onto the peel and then adjust the shape once it's on.
How do you stop it from sticking?
The flour will help with that but then I give it a little shake whilst the pizza is on the paddle. This can stop it from sticking.
You then place it into the pizza oven or onto your pizza stone.
Simply slide the peel under the pizza and rotate it when you need to turn it around.
Now if you are using a wooden peel, it's slightly different.
More often than not you would build the pizza on the peel. Next you would simply slide it into your oven.
It's important to note…You should then use a metal peel to turn the pizza.
You never want to turn a pizza with a wooden pizza peel as it will just burn it.
Frequently Asked Questions
Do You Make The Pizza On The Peel?
You can do, although you should flour the peel first to prevent it from sticking. It's important to also make sure the dough is at room temperature before stretching it out into the base.
Which Ooni Pizza Peel Is The Best?
All of them are decent. Personally I prefer the bamboo for launching and the perforated peel for turning and retrieving the pizza.
Should I Oil My Pizza Peel?
If you have a wooden one then you can use olive oil on the peel to help it last longer.
Can You Cut The Pizza On the Peel?
If it's a wooden one you can, I wouldn't suggest it on a metal one. If you are using a sharp knife then you do need to be prepared for it to scratch your peel. I'd suggest getting a serving board.
Final Thoughts
So, when looking for a pizza peel there are many factors to consider. The price, the length of the handle, how comfortable it is to hold and also what it is made from should all be taken into account.
If you're looking for a wooden one that can only be used to launch pizzas then look no further but if you want one that can also turn or remove the pizza from the oven then a metal one would be better.
And finally, if you want to make sure your pizzas have a crispy crust, go for a perforated peel.
Hopefully this guide has helped you find the best pizza peel for your needs. Let me know in the comments below if you have any questions.
Perforated Pizza Peel
Lightweight
Comfortable To Hold
Improved Air Flow
Requires Less Flour
Metal Pizza Peel
Lightweight
Durable and Strong
Comfortable Handle
Thin blade to get under pizza base
Wood Pizza Peel
Made from high quality bamboo
Slanted to get under pizza
Easy to clean
Stylish design