Who has 24-48 hours to make a classic pizza dough?
Seriously, I usually decide I want pizza on the same day and I don't have time to wait to make my dough.
That's why I love this quick Ooni pizza dough recipe. It's ready in just a couple of hours.
It's perfect to be used in the Ooni Pizza Oven but is also great in your home oven.
Don't get me wrong, dough that takes 24-48 hours can taste really nice. This extra time gives the flavor time to develop.
BUT, sometimes I just want a quick pizza dough that's going to be ready the same day.
This recipe will make roughly 4x250g dough balls. The size of the pizza will be between 10-12 inches.
Print
Simple and Quick Ooni Pizza Dough Recipe
The Ooni Classic Pizza Dough recipe is perfect for those who are short on time. It only takes 4 ingredients, rises quickly and tastes better than any pizza from a pizzeria
Author:
Prep Time:

10 mins

Cook Time:

3 Hours

Total Time:

3 Hours & 10 Mins

Yield:

4

Dough Balls

1

x
13oz

(

365g

) Cold water

4 tsp

(

18g

) Salt

7g

Instant dried yeast (

20g

fresh or

9.2g

active dried yeast)

21.5oz

(

610g

) "00" Flour

1 tsp

Olive Oil
Instructions
In order to activate the yeast quicker, you need to use lukewarm water. to get the right temperature place 1/3 of the water into a saucepan until it begins to boil. Once its boiling place it in a bowl with the remaining 2/3 of cold water. 
Add the salt and whisk it until it is fully dissolved. 
Once the salt has dissolved, add the yeast and whisk it until all yeast is mixed in. 
Leave the yeast to start activating for 5 minutes. You should know the yeast is activated as it will start to form a foam on the top. 
In a bowl place the flour and then pour in the yeast mixture
Stir the mixture with a wooden spoon until it has started to form dough. You may need to continue to mix with your hand to fully combine. 
Once its fully combined into a dough, flour your surface and empty the dough out onto your work surface. 
Knead the pizza dough for 5 10 minutes. Try not to add any more flour as this will reduce the hydration. 
Add 1 tsp Olive Oil onto the dough and rub it in with your hands. Knead again for another minute. (The oil helps to give it a smoother surface and helps improve flavour)
Place into an air tight container or a bowl covered with cling film. Leave in a warm place for 2 hours. 
Once the dough has risen, divide the mixture into 4 equal sized dough balls. 
Place each dough ball into a separate air tight container or bowl cover with cling film. 
Leave to rest for 30-60 minutes – it should double in size. 
Your dough balls are now ready to be shaped and use. Or you can store the pizza dough for the next time you need them.

 
Keywords: Quick Pizza Dough
I've been using pizza ovens for a while now, using both wood and gas-powered. I've tried and tested many different pizza doughs.
I wanted a quick pizza dough recipe that works well in both a pizza oven and a normal oven in the kitchen.
This article will go into detail on what I think is the best Ooni pizza dough recipe.
The Best For An Ooni Pizza Oven (and your home oven)
The great thing about this quick Ooni pizza dough recipe is that it makes tasty pizza no matter how you plan to cook it. It's my go-to recipe when it comes to cooking in my pizza oven.
If you don't have a pizza oven, don't worry. It tastes just as good in your home oven, although I would recommend using a pizza stone.
This dough recipe produces a pizza base (Cornicione) that has crispy edges, a thin base and a chew centre.
Ooni Pizza Dough Ingredients
A great thing about this recipe is that you don't need that many ingredients. You only need 4 ingredients.
00 Flour – This type of flour is best for this type of pizza base. Its high protein and strong – giving it that crispy outer edge whilst keeping the middle soft, chewy and moist.
Water – The water you use will determine how quickly your dough can rise and its taste. If you want a quick Ooni pizza dough recipe (working in 2 hours) make sure you use lukewarm water.
Salt – Salt keeps the yeast active which helps with making sure your dough doubles in size. It also enhances the flavour of the pizza base.
Yeast – I prefer to use dried yeast as its just easier to store. You can however use fresh yeast if you do have some available.
Olive Oil – I like to add a little bit of olive oil to the dough, not only does it help with giving it a smoother surface (less sticky), but also improves its overall flavour.
Ingredient Substitutes & Additions
If you don't have any 00 flour, you can substitute it with strong bread flour. This type of flour has a more yellow tone to it and is made using harder wheat containing less gluten (about 12%).
I like to add a little honey to my dough. It helps with giving the dough a more rounded and additional flavour. It also helps to give it a darker colour.
Measuring Ingredients
One of the most important things about making any type of dough and not just pizza dough is that you accurately measure the ingredients.
All ingredients can be measured using kitchen scales. With the yeast and salt, you might want to use a scale that measures smaller amounts to get a more accurate result.
Just having a small difference in ingredients can dramatically change the outcome of your pizza.
For example, don't use enough yeast and the dough won't rise, too much yeast and the dough will overrise to a point where it will collapse.
The same goes for flour, less flour will result in a wetter dough that is hard to handle. More flour will give you a dryer dough where the pizza base won't have any flavour.
I would always recommend that you do double check your measurements.
How To Make This Quick Ooni Pizza Dough
The first step into making this quick pizza dough recipe is to activate the yeast. For this I use dried yeast, it's easier to find and lasts longer.
So why bother messing about it, it doesn't impact the flavour.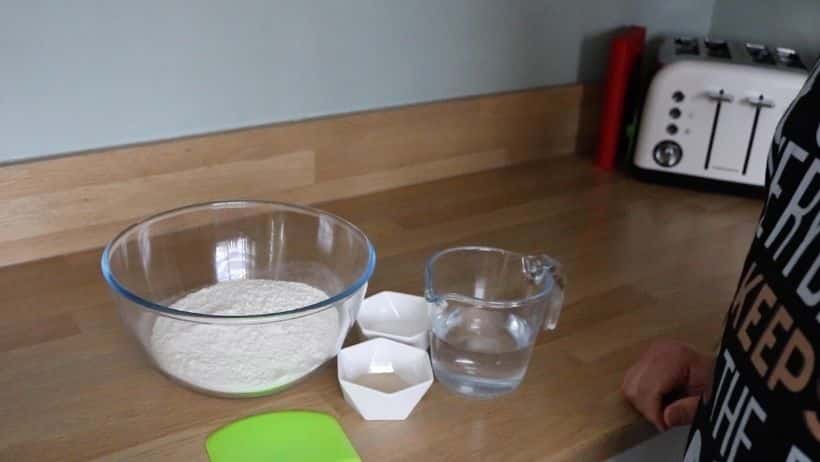 You could use cold water but this is only if you intend to cold prove the pizza dough in the fridge for 24-48 hours.
We don't want to wait that long, so we need to use lukewarm water. Its the warm water that kicks the yeast into action quicker.
It's important that the water is not too hot, as this will kill the yeast.
Take your water and take 1/3rd. For this recipe, id get 4.26oz (120g) of water and place it in a pan and bring it to a boil.
Once boiling, add it to the remaining cold water. This will combine the hot and cold but give you the perfect temperature to activate the yeast.
Add your salt and give this a really good stir until it's all combined. I would use something like sea salt flakes, as these dissolve much better than rock salt.
Once the salt has fully dissolved, add the yeast and gently stir until it's fully mixed into the water.
Leave this for 5 minutes to let the yeast begin to activate. You'll know it's done as you will start to see foam forming on the top.
I'll then place my "00" flour into a bowl and create a well in the centre. If you cannot get "00", then replace that with strong white bread flour.
Pour the yeast into the well and begin to bring the edges of flour into the middle with a wooden spoon.
Continue to combine with the spoon. You might notice it seems a bit flakey but don't worry, as you continue to stir it will come together.
Personally, I like to just get in there with my hands at this point and slowly start kneading it in the bowl to bring everything together.
The next step is to knead the pizza dough. This is something many people are worried about when they first start making their own dough.
Often worried that they are not doing it correctly. Don't worry! It's not that complicated and something you will get better at the more you do.
Sprinkle some flour onto your work surface, this is to stop it from sticking. It's important that you don't put too much flour on as this will reduce the moisture in the dough which will make it dryer.
Now knead the dough for 10 minutes. As you continue to knead it, you will notice the dough becomes smoother and easier to manage.
You should also notice it becomes more stretchy. You can test it's done when you press into the dough with your finger and it bounces back into place.
I'll then place it in a bowl and cover it with a damp cloth or cling film. You could also use an airtight container.
Place this in a warm place and let the dough rise for 2 hours. If it's a very warm day then you might need to leave it for a little less. Keep an eye on the dough and once it's roughly doubled in size, it's ready to be balled.
After two hours, empty the dough onto your work surface and divide it into 4 equal dough balls. You might want to measure them to get them to roughly the same weight. (220-250g is a good weight for 10-12 inch pizza).
You want to ball the dough, this basically helps to get the dough into the right shape ready for stretching into your pizza. Once it's done its final rise, you do not want to be handling the dough much.
Here is a great guide on balling the dough –
Place each of the dough balls into an airtight container (the Ooni Stacks are perfect for this). Leave these to rest for 30-60 minutes. I usually leave them for around 60 minutes, depending on how hot it is. Again you are basically leaving them until they are doubled in size.
And there you have it Quick Ooni Pizza Dough. This is going to help you to produce an amazing Neapolitan style pizza. Perfect for cooking in your Ooni pizza oven or like I said, your standard kitchen oven will work just fine as well.